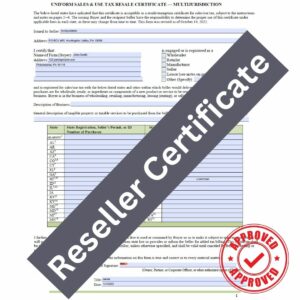 Does Foxliquidation Require a Resale Certificate?
Yes, we do ask for a resale certificate. Here's what you need to know:
1. What Is a Resale Certificate?
A resale certificate allows you as a reseller to purchase goods from Foxliquidation without paying sales tax. It is typically provided once and applies to all orders.
2. Why Does Foxliquidation Request Resale Certificates?
A resale certificate is a document that allows you, as a reseller, to purchase goods from us (the wholesaler) for resale purposes without having to pay sales tax.
The resale certificate is typically provided once and applies to all orders.
3. Does Foxliquidation File the Collected Resale Certificates with States?
No, the certificates are kept unless specifically requested by a state.
4. Where Can I Find the Resale Certificate Form?
For your convenience, we provide copies of the reseller certificate forms for each state, and you can find the forms below. Some states accept a Multi-State Uniform Sales & Use Tax Certificate, while others have their own form.
*In order to fill out a reseller certificate form, you might need to apply for a reseller permit. You can obtain a reseller permit from your state, and in most states, you can apply for the certificate online for free.
5. How Do I Submit the Certificate?
You can either:
6. What If I Don't Have a Reseller Permit but Sell on Marketplaces That Handle Sales Tax?
If you lack a resale permit, include your State Tax ID seller identification. If you don't have either, confirm in writing on the resale certificate your intent to resell the items and specify the marketplace to be used for sale (e.g., Purchasing for resale on Poshmark and eBay, as these marketplaces handle the sales tax).
Let us know if you have any questions!